Hello Dream Machine Donors, Volunteers, and Community!
Starting this year, the Dream Machine Foundation will be sending off a monthly impact report & newsletter containing the following items:
Highlights of the dreams we made come true
Exclusive insight into what is coming up next
Powerful lessons we have learned about turning dreams into a reality
For this first impact report, we will spotlight January & February of 2023.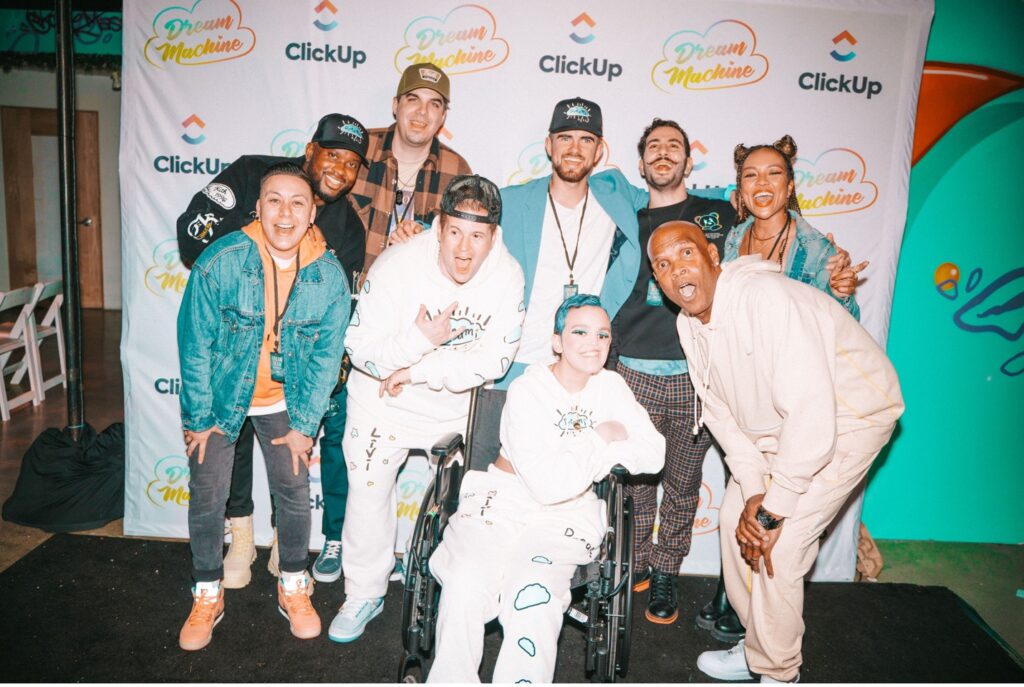 PART 1: January & February Dreams
Olivia's Dream: 15 year old battling cancer — "My dream is to have my own fashion line."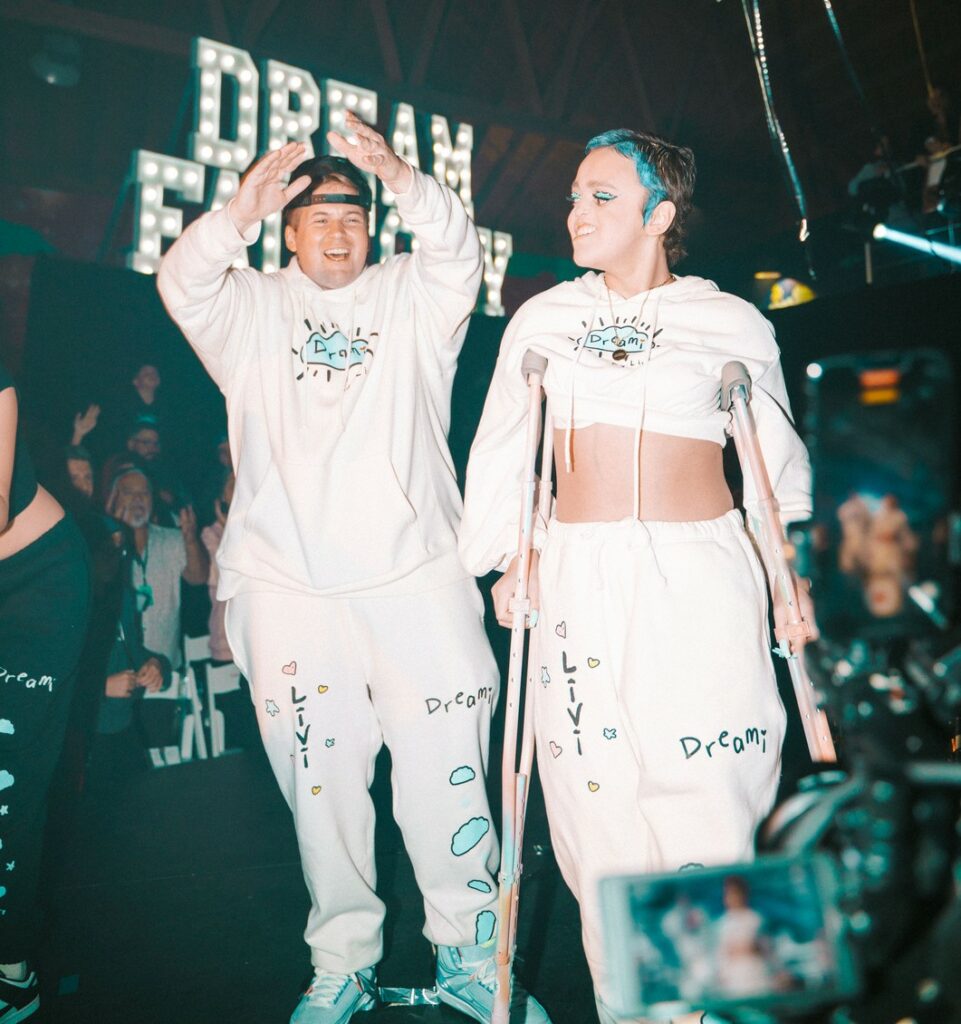 Olivia, a young girl who has been battling cancer since the age of 2, had a dream to have her own fashion line. She not only wanted this for herself, but she hopes to — in her big vison — create clothing that is disability friendly for people like herself.
Olivia's dream kicked off with a bang on the night of Charlie Rocket's, our founder, TedTalk. On stage, he surprised Olivia with a video message from the most famous Youtuber on earth, Mr. Beast. He donated $10,000 to Olivia to help kickstart her business.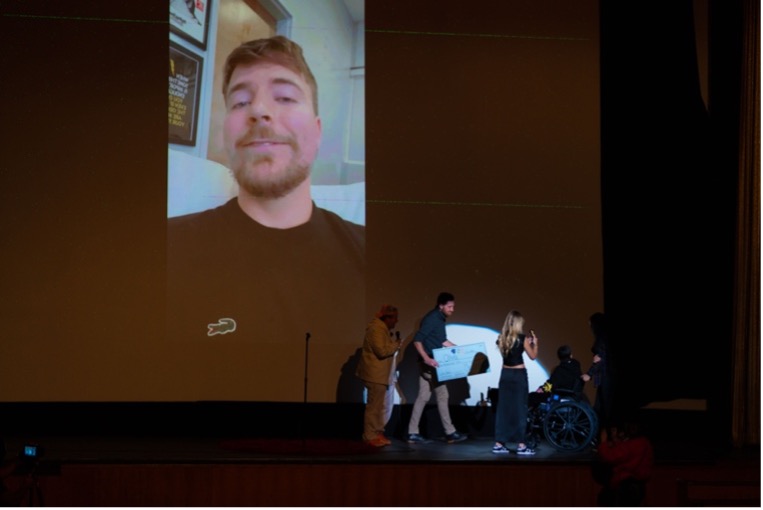 Next, Charlie and the Dream Machine team got to work! With the help of Randy Richard Morales — a head designer for Alo — Olivia created her clothing line "Dreami by Livi." To launch the clothing brand, however, we couldn't just do something normal. We wanted to think big!
So, we decided to create the world's coolest fashion show that featured supermodels, kids battling cancer & living with disabilities like Olivia, comedians, DJs, and our entire community. To promote the event, Livi was invited on Big Boy's Neighborhood to be interviewed on Los Angeles's biggest radio station & share details about the event!
In one night, we sold over $50,000 of Olivia's clothing & in the words of one of our community members it was "the most incredible philanthropic experience they have ever been a part of."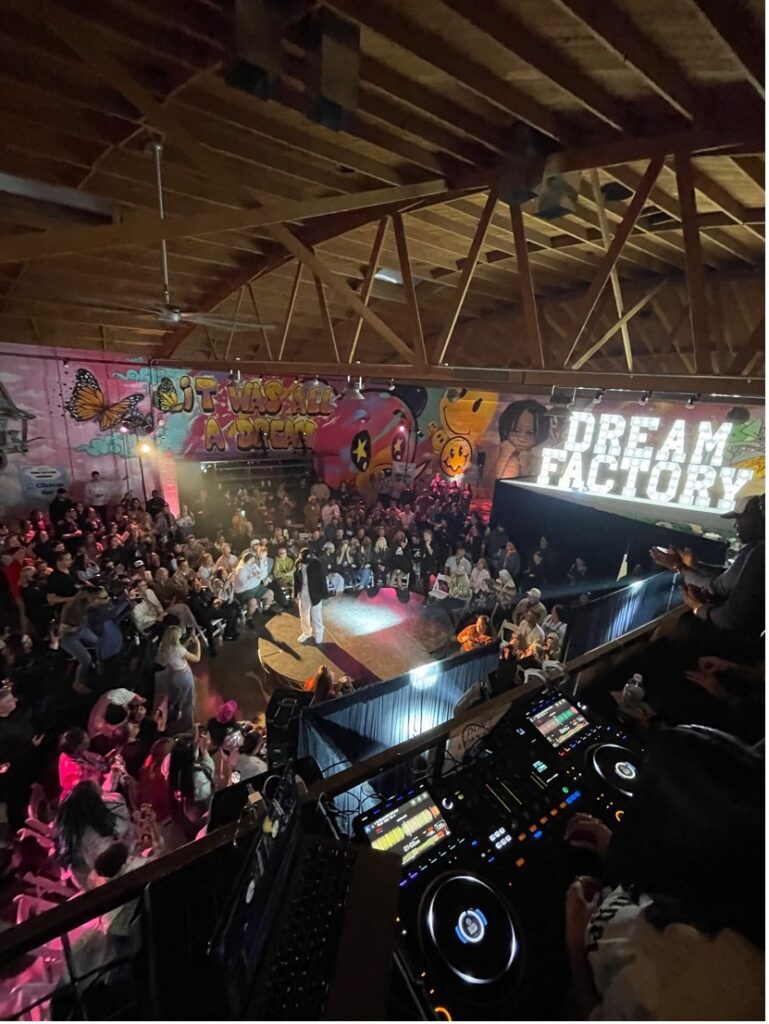 Here is a recap video of the night if you want to watch it: RECAP VIDEO
Olivia is now searching for blood donors to help with her treatments. If you are interested in seeing if you're a match, please click here: BE THE MATCH
Jaxon's Dream: 8 year old boy with down syndrome "My dream is go to a Lakers game & see Lebron James play."
Jaxon — a young, energetic, and full of life kid — wanted to go to his first Lakers game! We met Jaxon and his family at one of our foundations events & we knew immediately we wanted to make his dream come true.
With the help of our ticket partner 'Gametime App' and one of the top NBA trainers in the world Drew Hanlen, we created an experience for Jaxon he will never forget.
Not only did we surprise him with tickets, but Jaxon got to go on the court before the game, meet Russel Westbrook and other Lakers players, and he got to dunk a ball with the help of the Lakers stunt team!
If you want to see Jaxon's big dunk, watch this video: JAXON'S DUNK
Kepa's Dream: A young father, and inspiring entrepreneur: "My dream is to not see my family hungry or struggle anymore."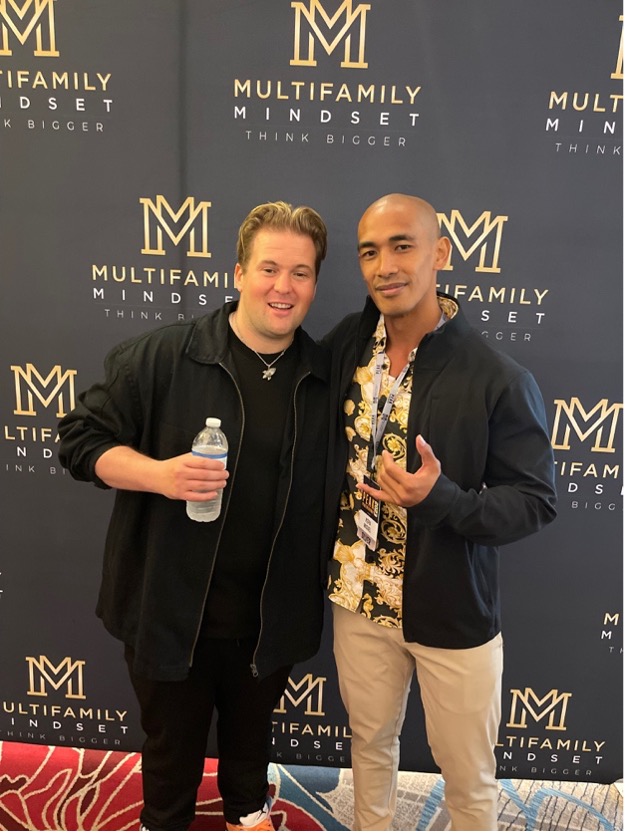 As a part of the Multifamily Mindset's annual conference, PEAK PARTNERSHIP, in Orlando, Florida, we were able to make Kepa's dream come true!
Kepa is a young father who has aspirations of building his own health & wellness app, but he has always struggled financially. He also faced a series of challenges including his mother passing away and getting in a car accident that were major setbacks on the path to his dream.
The 1,400 people who attended this event voted on who deserves a dream come true, and BY FAR the answer was Kepa. Everyone says he puts others before himself 24/7 and his biggest concern is making sure his family is good, so then he can go chase his dreams.
At the end of Charlie's electric keynote speech, we made a $5,000 donation to Kepa on behalf of the Dream Machine Foundation AND he raised a total of $60,000 for Kepa through the 1,400 attendees of the event. Kepa will also recieve long term mentorship from the leaders of the event to make sure his big long term dreams turn into a reality.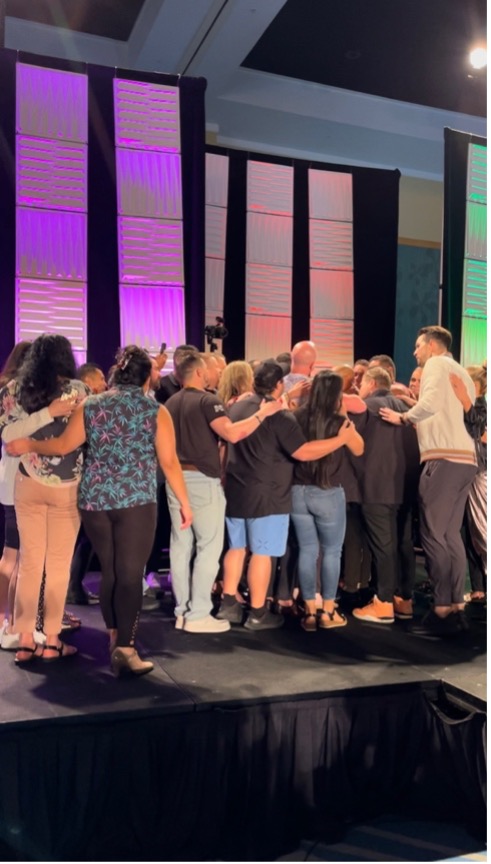 To watch this powerful moment, watch this video: KEPAS DREAM MOMENT
PART 2: WHAT'S NEXT
There are a lot of exciting activations coming up for the Dream Machine Foundation this month:
Giving Friday
We are launching a new initivate called "Giving Fridays" as a part of our Dream Come True Grant Program.
Every Friday, we will be taking the Dream Machine out into the city of Los Angeles and doing some form of service to the city. This Friday will be our first Friday doing this, and we will be making a dream come true for a young, single mother with one of our corporate partners Kidoodle.TV
Some days it will be just the team going out to do this, but some days, we are going to involve the entire community!
Stay tuned for updates on this!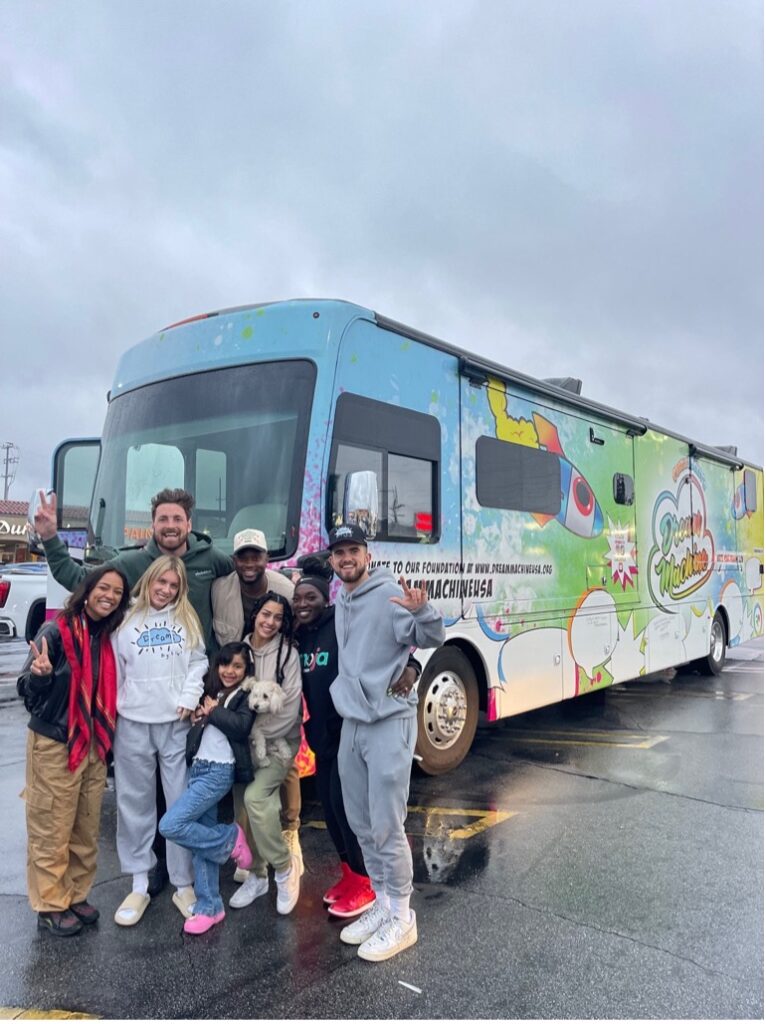 Dream Factory Programming
Events are being added to the calendar fast as we continue to build out our Dream Factory Programming. Currently, we are have 3 public events taking place at the Dream Factory in the upcoming months:
#1 Best Day Ever: Acts of Kindness Challenge (DATE TBD)
Best Day Evers are our community random acts of kindness days where we try and complete as many acts of kindess as possible in one day. In December, we did 1,324 acts of kindess in one day! This next time around, we want to beat that number! Date coming soon!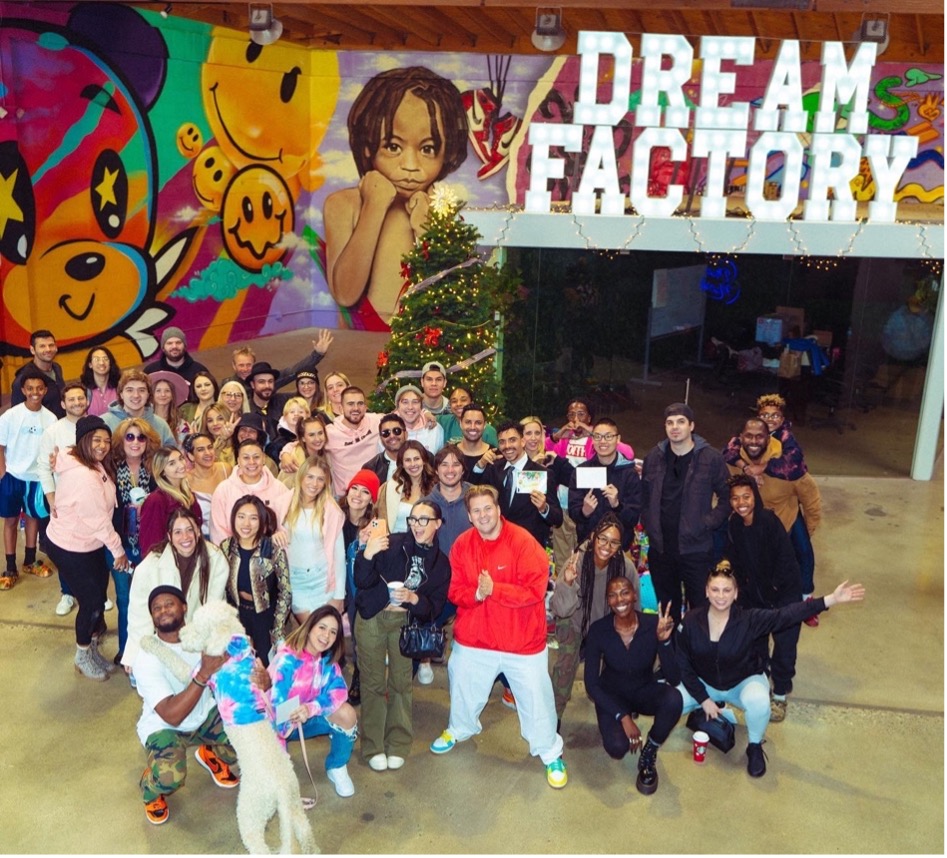 #2 Chase the Dream: Community Health & Wellness Event – SAT, APRIL 8TH
A big part of being a dreamer is promoting a healthy lifestyle. Our partners over at Edge Lab Theory Cold Tubs will be putting on an event at the Dream Factory that features Exercise, Breathework, Cold Exposure, and Food & Beverages. There will be limited tickets available, but they will be released soon!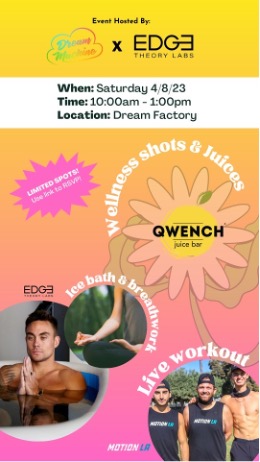 #3 'What Dreams Are Made Of' Art Show: FRI, MAY 5th
Hosted by the muralist who painted the Dream Factory, 1440, there will be an art show hosted at our space that highlights the work of world-famous artists and gets our community together for a night of entertainment, connection, and impact.
20 professional artists will be making custom pieces for this art show, and they have all agreed to donate a percentage of their sales from the evening & from this collection to the Dream Machine Foundation, so we can make more dreams come true.
More details coming soon!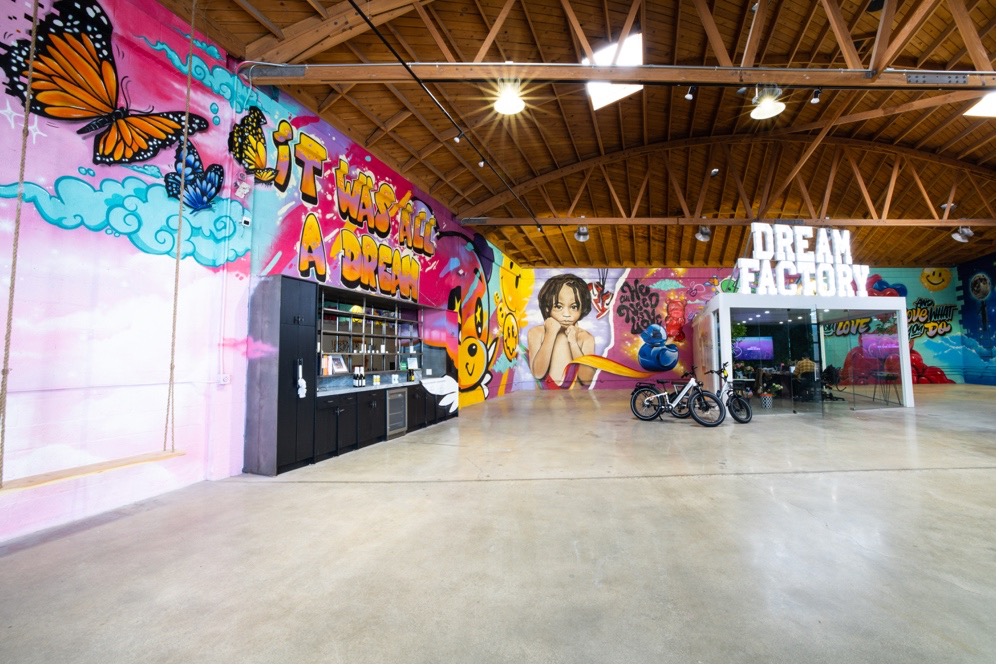 Dream Machine Foundation 'DREAM TEAM VIP'
Lastly, we are working on something very exciting! We built out our 3 year impact plan roadmap and are putting together a group of individuals and companies who want to help us scale our impact and bring our vision to life!
There will be 4 tiers that companies & individuals can get involved with!
Details will be released soon, but if you are interested in being a part of this VIP donor club, please contact us and we can start a conversation.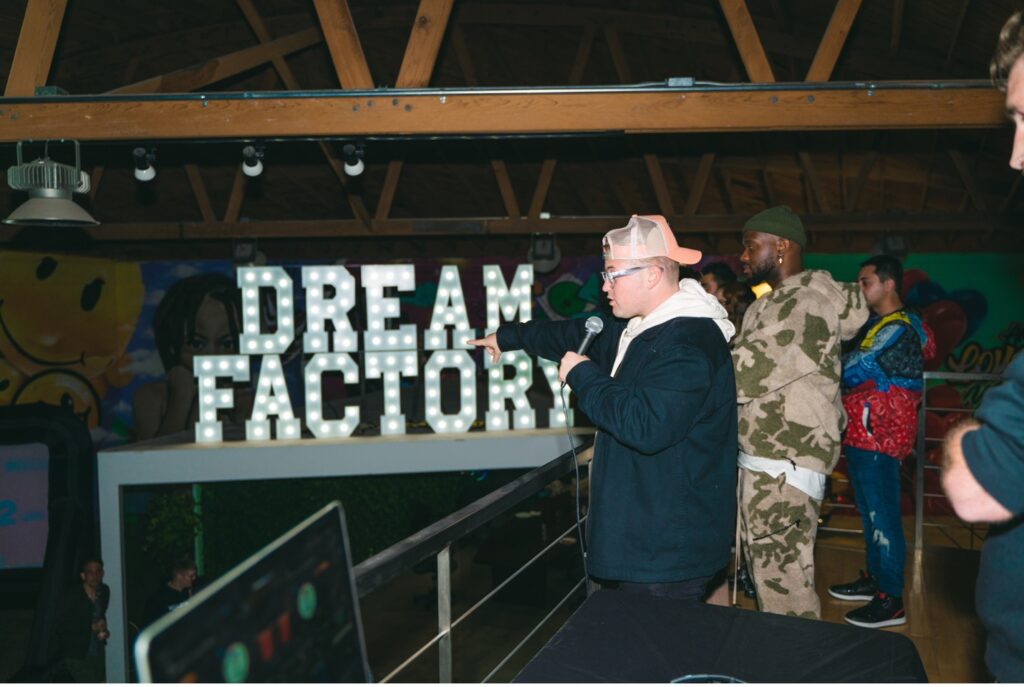 PART 3: POWERFUL LESSONS ABOUT DREAMS
The most powerful lesson we learned about making dreams come true in this time frame had to be with Olivia's dream.
Olivia has had to go into the hospital every week for the past 5 months, and during the 2 week period that we were working on her dream with her, her mom said she had 10x the energy, she didn't have to go to the hospital for the first time in 5 months, and she even got out of her wheel chair & walked with cruches for the first time in months.
We can't prove science behind this, but this isn't the first time we have seen someones mental health, physical health, & passion for life improve by chasing their dream.
The takeaway for us was that dreams have a power to help someone heal, transform, and evolve into the highest version of themselves — and this is just as true for me or you, as it is a 15 year old battling cancer.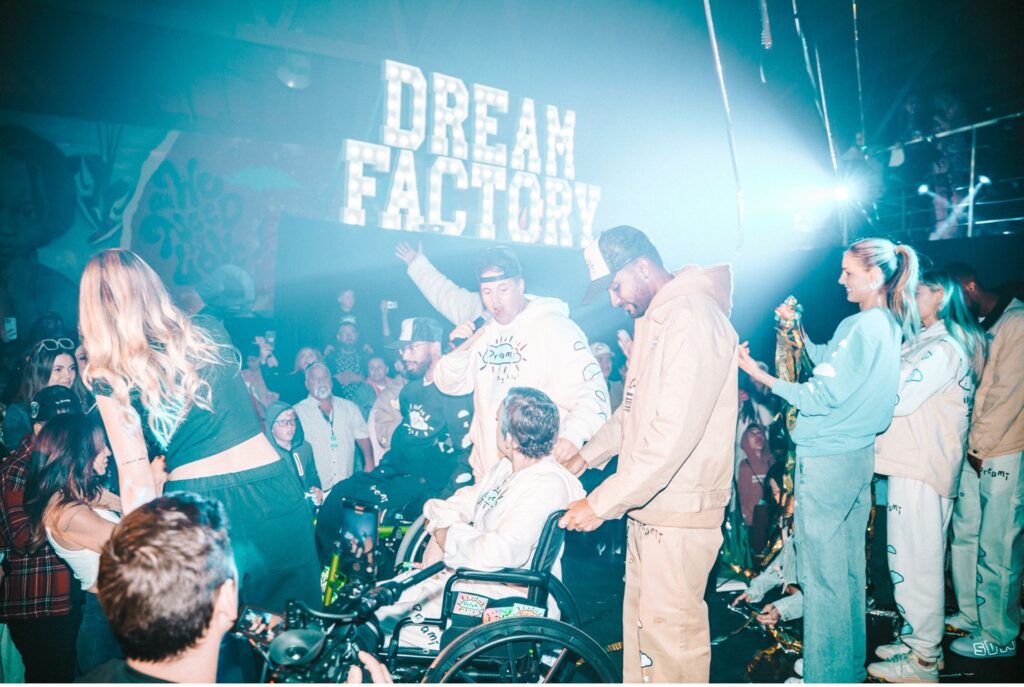 IN CLOSING….
In closing, thank you for being a donor, volunteer, or supporter of the Dream Machine Foundation & the world's coolest community of givers and dreamers!
As a reminder, the most IMPACTFUL way you can support us is to join our monthly giving community, so we can scale our impact & change more lives.
If you feel called in your heart to join, here is where you can do so: JOIN THE MONTHLY GIVING COMMUNITY
Until next month, keep dreaming.